Conscious Initiative OÜ is a company originating from Estonia. This Nordic country has a global reputation for being forward-thinking and tech-savvy and the start-up capital of Europe. A lot of big startup companies have grown out of our tiny country and are now very successful global companies: Skype, TransferWise, Bolt (ex-Taxify), Pipedrive, Click & Grow, GrabCAD, Erply, Fortumo, Mooncascade, Lingvist, just to name a few.
Estonia is the first nation in the world to have e-residency and e-voting and is the top player in the area of Internet security, earning itself its nickname, 'e-Estonia'. So disrupting areas with digital solutions is in our blood!
For the companies of 21 century, the mental strength and peak performance of its people are increasingly the main strategic objectives. This demands a new kind of leadership that values intrapersonal skills and considers wellbeing as a foundation for active participation.
The wider implication of applied awareness can expand minds, lead to fundamental insights and reach this objective. Like Isaac Newton had an insight into the law of universal gravitation while sitting under the apple tree and being hit by a falling apple.
WHO WE ARE?
We strongly believe in the power of applied awareness to be uplifting for people's performance and wellbeing. Everywhere, professionally and personally. We value initiative.
We see wellbeing not as a result but as a foundation. An enabling state to build a healthy world, where people can be at peace with the consequences we have collectively created. We believe in taking responsibility – even the biggest change starts with an individual. Everyone's initiative matters.
WHAT DO WE DO?
We create events and platforms where business, awareness, and talent meet by providing digital as well as physical content about the wide application of awareness and intrapersonal skills. We do this through conferences, live and online trainings for institutions, companies as well as individuals.
OUR MISSION
Literally, we are lit up by awareness. We are dedicated to providing insights into how the ability to notice works, enabling people to develop better knowledge of their situation, potential, objectives, and meaning. We inspire people to explore their intrapersonal skills systematically, so they can be healthier, increase initiative and become creatively involved in their work.
OUR VISION
We want to see humanity thriving and businesses driven by meaning and ethics. We see that natural resources can be used wisely when people are not carried away by momentary emotions and consumerism.
In our vision, we see a world where wisdom and awareness flourish as a driving force. Responsibility and dedication will redirect our focus from the outer world to intrapersonal skills and allow us to live lives fully. This is the future we choose to envision.
Conscious Initiative facilitates applying awareness in all work and life situations. To expand minds, translating across many fields of business and life. We know that all humans have the potential to increase their level of consciousness and are thankful for the opportunity to give our share in making this happen.
We are convinced that this leads to growth from just reactive to inclusively responsive to individuals as well as organizations. We are here to encourage positive change through the growth of human intellect and do everything we can to prevent the annihilation of our planet as well as our kind with the misuse of technology at humanity's disposal.
We support a proactive approach. That is the base for success in work and entrepreneurship and leads to mental wellness.
Since the decisions people make, opportunities they notice and obstacles they encounter, all have major internal components, we focus on intrapersonal skills. All these go hand-in-hand with the ability to notice and can be developed by everyone. Mastering intrapersonal skills give people the ability to influence their performance and quality of life.
Our live events and the world's first fully digital mental wellness gym are predominantly directed to entrepreneurs and different workplaces, addressing people and the way they work. We teach how to pay attention, listen carefully, take initiative, be self-motivated, focus, be creative and expand this creativity into an innovative mindset, approach changes, think clearly, manage emotions (guilt, irritation, self-esteem, greed, fear, etc), be dedicated, manage time-pressure, etc.
Happiness and productivity at work can also be compromised by a lack of know-how on how to deal with intrapersonal disturbances like stress, burnout, depression, anxiety and recurrent obsessive thoughts, disturbing flashbacks or excessive worry. We provide online trainings to enable people to acquire the skills needed to solve these problems effectively, regain their initial potential and re-establish wellbeing.
We empower people to fulfill their calling professionally and personally.
---
OUR FOUNDING STORY
Our story began when our two of our founders Kaur and Helena attended in Ingvar Villido's awareness lecture series. We both had realized that there surely has to be a more profound way to life than just following the usual social behavior of school-work-retirement. Along the timeline, the more we discovered about the tool of awareness from Ingvar's courses, lectures and applied awareness practices, the more we started to recognize the potential of the situation. We started to question the current material status quo and search for more internal freedom that always comes along with personal responsibility.
The Conscious Initiative story started with the intent to be of service. Alongside Helena's medical studies and work in hospitals, she discovered that the educational deficit of to-the-point and applicable intrapersonal skills is the main villain for problems in self-actualization, meaning, health and wellbeing.
For the last 7 years, our team has been searching how to address smart, energetic and highly creative people from a more powerful and proactive perspective so that people can thrive.
The year 2015 was a starting point for our business, resulting in the first Conscious Initiative Conference. It then became a matter of the heart for our team to share the practice of how applied awareness and intrapersonal skills translate into meaning and fulfillment through everyday work.
The age of the Internet and information is challenging the usual separation between polarities – work and personal life, mind, and body, us and them, doing and being, right and wrong.
As constant change is an inevitable part of life and nature, there needs to be more integration and less separation. While fulfilling our calling, we founded Conscious Initiative and Wellness Orbit to support others in fulfilling theirs.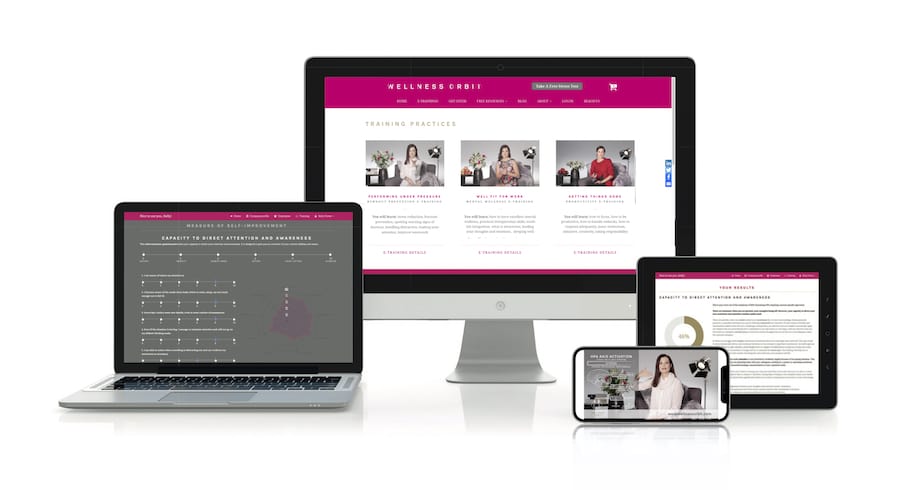 THE CONSCIOUS PATH IS A CHOICE THAT SECURES INNER SUSTAINABILITY
We aspire you to stop on the path of conscious change that opens up your intrapersonal potential and supports self-leadership skills. This builds path to inner sustainability, when our minds are well, we work well and keep our world well.
We are immensely grateful to all Conscious Initiative and Wellness Orbit fans, exploring with an open mind the frontiers of awareness and mental wellbeing alongside us and inspiring others to take bold action in doing the same.
We are also grateful to our awareness teacher Ingvar Villido who continues to share his Practical Consciousness Classes with people around Europe, Russia, and the USA.

Thank you!